"To accrue the maximum number of Rosettes, a restaurant must truly possess a distinct creative flair that surpasses all their competitors; achieving standards that demand recognition nationally, and are well-established in their own right.  Most integral to a Restaurant Inspector's judgment is the taste and freshness of the food on offer, as well as accuracy of cookery. Indeed, it is not the plate of food that is being assessed, but the food on the plate." – AA Ireland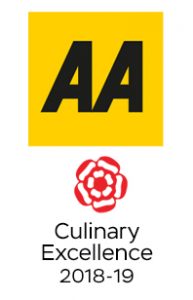 Basilico Restaurant in Oranmore is proud to announce that they are the winners of an AA Rosette for culinary excellence. Fabiano Mulas and Paolo Sabatini, owners and co-founders of the restaurant are purists when it comes to sourcing and using the highest quality seasonal ingredients in their dishes.
Paolo Sabatini as Head Chef loves to experiment with flavour and the combination of local produce and Italian ingredients gives his menu a creative edge that is unrivalled locally.
Surprise Visit
"We had applied for the award" said Fabiano, "but we had no idea when the inspection would happen.  It is essential to the integrity of the award that the AA representative doing the inspection is anonymous and compares the quality of what we offer to what is available locally.
It was only the next day, when he had stayed overnight at The Coach House Hotel that we received the good news."
He called a meeting in the morning and announced that he had awarded the hotel three stars and Basilico Restaurant had won a Rosette. This places Basilico on a level with only three other establishments in the county.
The Provenance of The Cuisine
Amongst our suppliers we have Brady's Butchery in Athenry, Seafood is sourced from Gannet Fishmongers, Glynn's and Curley's supply fresh vegetables and all are known locally for the high quality of their produce.
The AA inspector commented on the superb quality of the dishes on offer and ordered a three course-meal, which he declared outstanding. Both Fabiano and Paolo grew up immersed in the Italian food culture, with Fabiano hailing from a family farm in Sardinia and Paolo from Viterbo near Rome.
Authentic Italian Ingredients
Basilico imports olive oil especially from Calabria. Italicatessen delivers cheeses and smoked meats and all dishes sing with the flavours of Italy.
"All our dishes are prepared here in our kitchen with love by our expert team. Our pizza dough is made on the premises using imported Caputo flour and we take pleasure in each aspect of the preparation process" says Paolo.